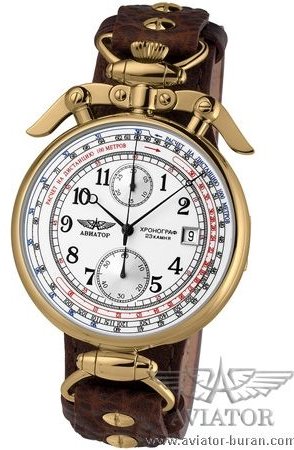 Poljot Aviator Wings of the Motherland Chronograph
- Russian Poljot Movement
- Chronograph
- Sapphire crystal
- Water-resistant to 5 ATM
- Stainless steel
- 20 mm specially designed strap
- Superluminova
- Stainless steel case, gelded
- Shock resistent
- Manual wind
- Power reserve 42h w/o Chrono running (37 with)
- Frequency 21600
- Plus or minus 20 to 40 seconds a day
- 43 mm case
- 23 Jewels
- Functions:
- Hours
- Minutes
- Seconds
- Date calendar
- Stop watch with summing up action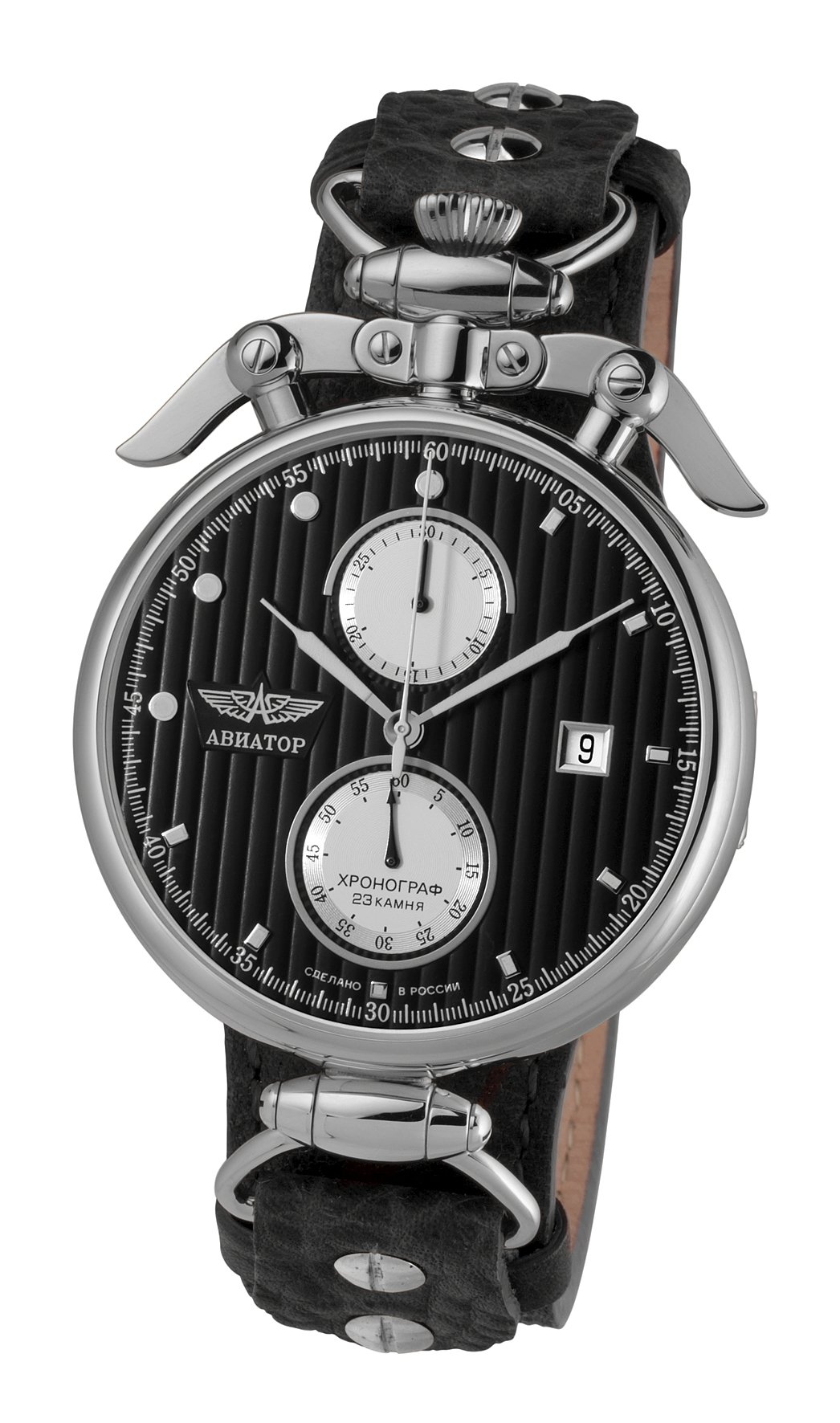 Poljot Aviator Wings of the Motherland Chronograph
- Russian Poljot Movement
- Chronograph
- Sapphire crystal
- Water-resistant to 30 m, 3 ATM
- Stainless steel
- 20 mm specially designed strap
- Shock resistent
- Manual wind
- Power reserve 42h w/o Chrono running (37 with)
- Frequency 21600
- Plus or minus 20 to 40 seconds a day
- 43 mm case
- 23 Jewels
- Functions:
- Hours
- Minutes
- Seconds
- Date calendar
- Stop watch with summing up action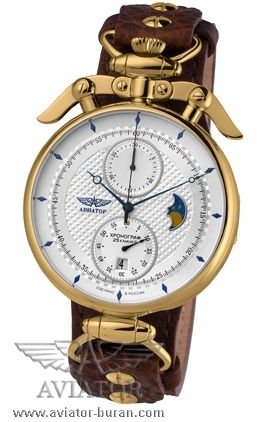 Poljot Aviator Wings of the Motherland Chronograph 123/500
- Russian Poljot Movement
- Chronograph
- Sapphire crystal
- Water-resistant to 5 ATM
- Stainless steel
- 20 mm specially designed strap
- Stainless steel case, gelded
- Shock resistent
- Manual wind
- Power reserve 42h w/o Chrono running (37 with)
- Frequency 21600
- Plus or minus 20 to 40 seconds a day
- 43 mm case
- 23 Jewels
- Functions:
- Hours
- Minutes
- Seconds
- Date calendar
- Moonphase
- Stop watch with summing up action
- Serial Number 123/500
- Purchased 03-FEB-2012 - £670 (RRP £724)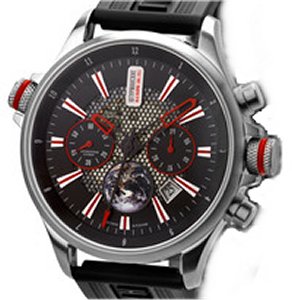 Sturmanskie Gagarin 50th Edition Chronograph (Honeycomb)
- Russian Poljot Movement
- Chronograph
- Sapphire crystal
- Water-resistant to 30 m, 3 ATM
- Stainless steel
- 22 mm silicon strap with Gagarin etched into strap
- Shock resistent
- Manual wind
- Internal rotating bezel
- Power reserve 42h w/o Chrono running (37 with)
- Frequency 21600
- Plus or minus 20 to 40 seconds a day
- 44 mm case
- 23 Jewels
- Functions:
- Hours
- Minutes
- Seconds
- Date calendar
- Stop watch with summing up action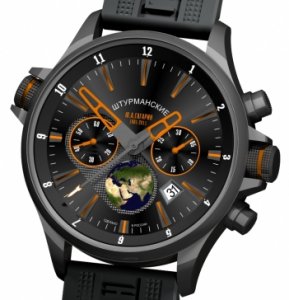 Sturmanskie Gagarin 50th Edition Chronograph
- Russian Poljot Movement
- Chronograph
- Sapphire crystal
- Water-resistant to 30 m, 3 ATM
- Stainless steel black PVD
- 22 mm silicon strap with Gagarin etched into strap
- Shock resistent
- Manual wind
- Internal rotating bezel
- Power reserve 42h w/o Chrono running (37 with)
- Frequency 21600
- Plus or minus 20 to 40 seconds a day
- 44 mm case
- 23 Jewels
- Functions:
- Hours
- Minutes
- Seconds
- Date calendar
- Stop watch with summing up action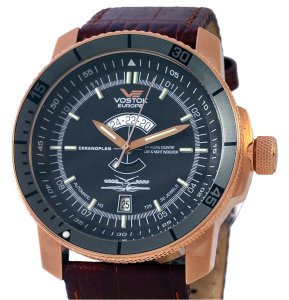 Vostok Europe Ekranoplan (Caspian Sea Monster)
- Russian Vostok 2432 32 jewel Automatic Movement
- Mineral crystal
- Exhibition Case Back
- Water-resistant to 200m, 20 ATM
- Stainless steel Rose Gold case
- Shock resistent
- External rotating bezel
- Power reserve 36h
- Plus or minus 10 to 20 seconds a day
- 47 mm case
- 32 Jewels
- Functions:
- Hours
- Minutes
- Seconds
- Date calendar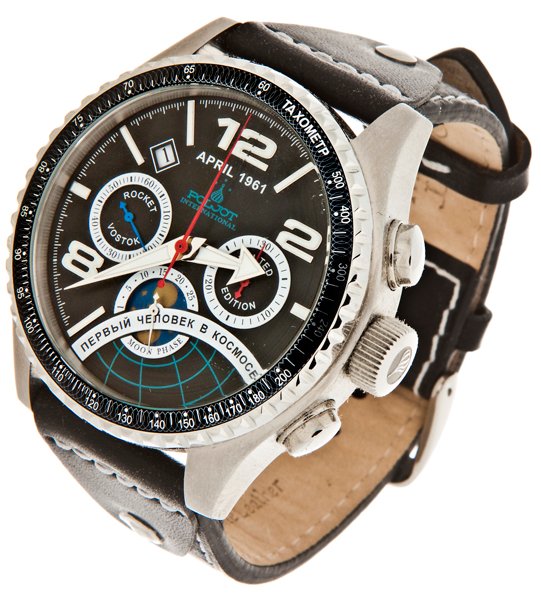 Poljot International Gagarin 31679/3081100 Limited Edition
On the 12th of April, 1961, the space ship "Vostok" was launched with the world's first cosmonaut Yuri Gagarin on board. "...I am coming into the shadow of the earth" sounded his voice in the ether. In the headquarters, his words were not grasped immediately... It was the beginning of a new era, in which human beings were able to see the dark side of our planet.

The legendary flight only lasted 108 minutes, but these minutes separated the "Yesterday" from "Today". The chronograph "Gagarin" is dedicated to this historical event. The typical tachometer scale, the silhouette of the globe on the dial and the inscription "The first man in space" commemorate the dream come true.

The typical tachometer scale, the silhouette of the globe on the dial and the inscription "The first man in space" commemorate the dream come true. The chronograph is produced with movement cal. 3133., moon phase indication, or with the Swiss automatic movement 7750.ETA. Limited edition of each version: 500 pcs.

- Movement cal. 3133 - Swiss automatic movement 7750.ETA
- Limited edition of each version: 500 pcs
- Chrono movement: cal. 31679
- 23 ruby jewels
- 21600 A/h
- Gold plated
- Power reserve approx. 42 hours
- Functions: stop function with summing-up action, side seconds hand, minutes counter, calendar, indication of moon-phases
- Case: stainless steel, Ø = 44 mm, h = 14 mm, bezel with tachometer scale, back of steel/glass
- 10 ATM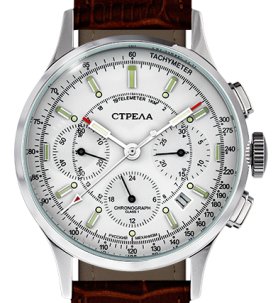 Poljot Strela 24 hour 31681-2121108 Limited Edition
In the 50´ties till the 70´ties, Poljot produced the famous and popular "Schaltradchronographs" with the brands "Poljot", "Sekonda" and "Strela". These Chronographs used the complicated mechanic caliber 3017 which is similar to the Venus movements. Fortunately, Poljot reminds itself to his history and uses the elegant 50´ties Design for these new watches.

Strela = russian for "arrow"

The Strela watch is fitted with the well-known Poljot manual winding caliber 3133/31681 ( with 23/25 jewels, 21.600 half rotations/hour, shock protection, 48 hours power reserve ) , date between the position "4"-"5", screwed crystal back , hardened mineral glas and an elegant stainless steel case with 38 mm diameter. Slightly curved hardened mineral glas. The white decorated dial features a Tele- and Tachymeterscale, silver luminous hands and luminous indexes as well as the "Chronograph Class 1" signature. Poljot once differed between better watches for the Export-market and the watches for the sale within the Soviet Union. Nowadays there is no such difference, but Strela reminds on this historical fact by using the "Class 1" designation for these new watches. Limited to 500 pieces ; including Box. This 1251B has cyrillic signatures.


- Movement cal. 31681 - Swiss automatic movement 7750.ETA
- Limited edition of each version: 500 pcs
- 25 ruby jewels
- 21600 A/h
- Gold plated
- Power reserve approx. 42 hours
- Functions: stop function with summing-up action, side seconds hand, minutes counter, calendar, indication of moon-phases
- Case: stainless steel, Ø = 40 mm, h = 13 mm, bezel with tachometer scale, back of steel/glass
- 10 ATM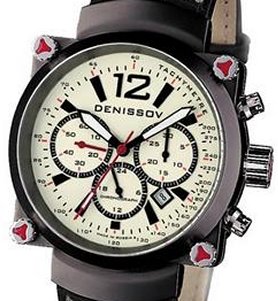 Denissov Aeronavigator 31681.450.3.A2 Limited Edition
Denissov's watch making history started in 1951, when Vladimir A. Denissov, the founder of Denissov watch brand, made a first step towards creation of exclusive wristwatch brand by using all his previous experience gained when working as a chief designer of the First Moscow Watch Factory "Poljot". Aviator, pilot, chronograph, dive & military watches complete the line.

Today, Denissov wristwatch is a true Russian collection watch for genuine connoisseurs of mechanical watches, remarkable for their original and exclusive design, bright ideas supported by high-quality materials.


- Chrono movement: cal. 31681
- Case - Stainless Steel
- Coating - Black PVD
- Crown - Screw down type
- Glass - Sapphire
- Hands - Super Luminova coating
- 10 atm water resistant
- Stainless steel case, black PVD-plated
- Case size 58 x 45 x 14.5 mm
- Leather strap - calf leather
- Power reserve approx. 42 hours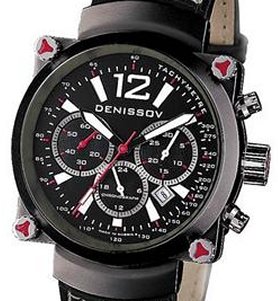 Denissov Aeronavigator 31681.450.3.A1 Limited Edition
Denissov's watch making history started in 1951, when Vladimir A. Denissov, the founder of Denissov watch brand, made a first step towards creation of exclusive wristwatch brand by using all his previous experience gained when working as a chief designer of the First Moscow Watch Factory "Poljot". Aviator, pilot, chronograph, dive & military watches complete the line.

Today, Denissov wristwatch is a true Russian collection watch for genuine connoisseurs of mechanical watches, remarkable for their original and exclusive design, bright ideas supported by high-quality materials.


- Chrono movement: cal. 31681
- Case - Stainless Steel
- Coating - Black PVD
- Crown - Screw down type
- Glass - Sapphire
- Hands - Super Luminova coating
- 10 atm water resistant
- Stainless steel case, black PVD-plated
- Case size 58 x 45 x 14.5 mm
- Leather strap - calf leather
- Power reserve approx. 42 hours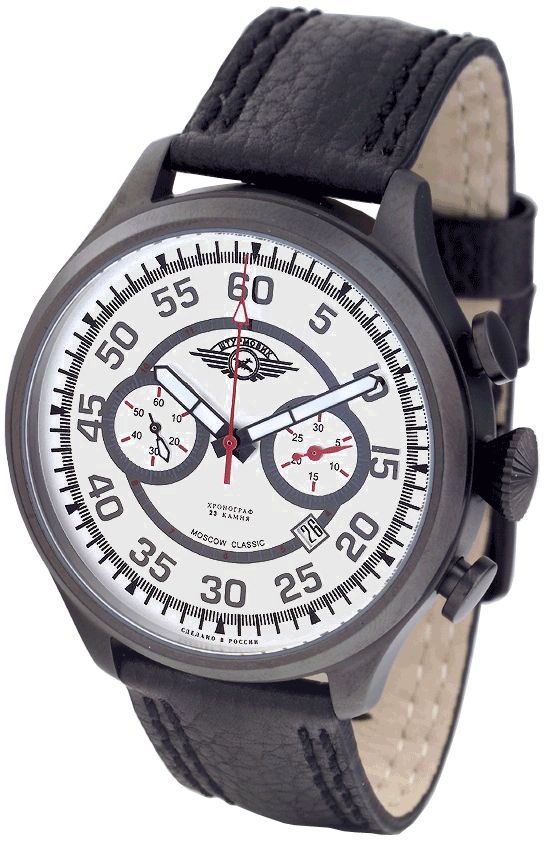 Moscow Classic Shturmovik Russian Watch 3133/03461114
- Mfg. Style #:3133/03461114
- Brand: Moscow Classic
- Collection / Series Name: Shturmovik
- Gender: Men's
- Band Material Tumbled Black or Brown Genuine Leather with Contrast Black Stitching
- Band Length: 9 inches
- Band Width: 22mm
- Clasp Type: Tang Buckle
- Movement: Manual Wind
- Mfg. and Caliber of Movement: 3133 Poljot/Maktime
- Crystal: Mineral Crystal
- Case Material: 316L Stainless Steel
- Case Diameter: 47mm
- Case Thickness: 15mm
- Caseback: Exhibition Caseback
- Calendar: Date Window Between 4 and 5 o'clock
- Water Resistant Depth: 10 ATM
- Weight: 116 grams
- Additional Features: Russian Movement and Assembly
- Warranty: 2 Year Limited Warranty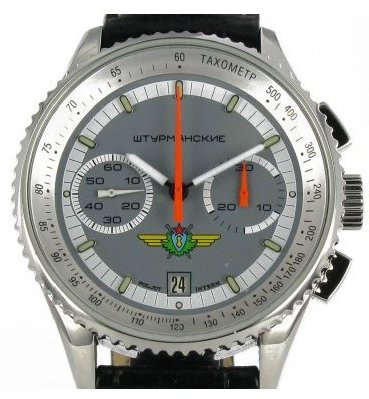 Poljot Sturmanskie JAK-7 Navigator 3133/2006847 Chronograph
This watch was created in memory of one of the most manoeuvrable aircrafts used in World War II, built by well-known Soviet design engineer Yakovlev (YAK). His bomber YAK-7 reached a speed of 500 km/h and a taking of speed of 735 m/minute, an incredible achievement in those days.

"Pilot watches" are seasonable for men of all ages and always the most popular. The tachometer scale, the luminous hands and the red second hand give the watch an additional dynamic twist and underline its sporty appearance.

- Minderal Crystal
- Analog display
- Stainles steel case
- 40 millimetres case diameter
- Leather Strap
- Tachometer Bezel function
- Made in Germany
- 2 years warranty
- Manual hand wind
- Water Resistant Depth = 50 metres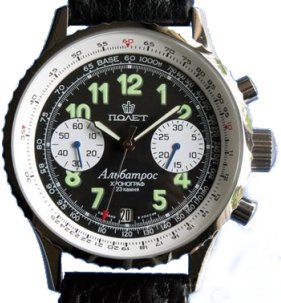 Poljot Albatros 3133 Chronograph
The Poljot "Albatros" is one of the most wanted and classic Flightchronographs available! This watch with a 40mm diameter polished stainless steel case features a slightly curved mineral glass, fixed corrugated lunette with Tachymeter-scale, 20mm bandwidth, a screwed back and it is powered by the well known mechanic caliber 3133 with 23 jewels, 21.600 Halfrotations/hour and shock resistance. The black dial shows the cyrillic signature of "Albatros" and green luminous numbers with luminous hands.
"Pilot watches" are seasonable for men of all ages and always the most popular. The tachometer scale, the luminous hands and the red second hand give the watch an additional dynamic twist and underline its sporty appearance.

- Minderal Crystal
- Analog display
- Stainles steel case
- 40 millimetres case diameter
- Leather Strap
- Tachometer Bezel function
- Made in Russia
- 2 years warranty
- Manual hand wind
- Water Resistant Depth = 50 metres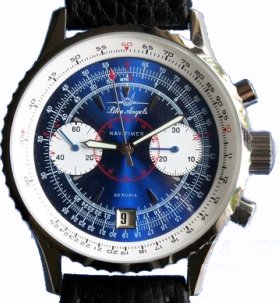 Poljot Blue Angels 3133 Chronograph
The POLJOT "Blue-Angels" Chronographs belong to the most sought after watches from the First Moscow Watch Factory and carry the name of the famous Russian air force squadron. As a homage to the glorious pilots of the "Blue Angels", there is a picture of their aircraft on the finely designed dial. This watch with a 40mm diameter polished stainless steel case features a slightly curved mineral glass

This watch has a fixed bezel, 20mm bandwidth, a screwed back and it is powered by the well known mechanic caliber 3133 with 23 jewels, 21.600 Halfrotations/hour and shock resistance. The blue dial features luminous indexes and luminous hands.

"Pilot watches" are seasonable for men of all ages and always the most popular. The tachometer scale, the luminous hands and the red second hand give the watch an additional dynamic twist and underline its sporty appearance.

- Minderal Crystal
- Analog display
- Stainles steel case
- 40 millimetres case diameter
- Leather Strap
- Tachometer Bezel function
- Made in Russia
- 2 years warranty
- Manual hand wind
- Water Resistant Depth = 50 metres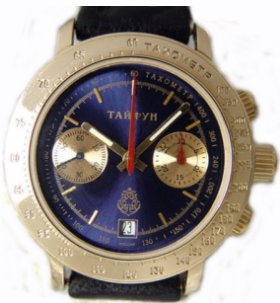 Poljot Typhoon 3133 Chronograph
This watch was created in memory of The Russian Typhoon Class submarines of the 1980's and only six were built. With a submerged displacement of 58,000 tons, the Typhoons are the largest class of submarine ever built, large enough to accommodate decent living facilities for the crew when submerged for months on end.

The watch itself was created in the early to mid 1990's

"Pilot watches" are seasonable for men of all ages and always the most popular. The tachometer scale, the luminous hands and the red second hand give the watch an additional dynamic twist and underline its sporty appearance.

- Minderal Crystal
- Analog display
- Stainles steel case gold plated
- 38 millimetres case diameter
- Leather Strap
- Tachometer Bezel function
- Made in Russia
- 2 years warranty
- Manual hand wind
- Water Resistant Depth = 50 metres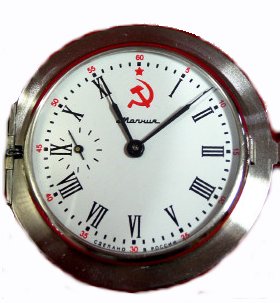 Molnija KGB 3603 Pocket Watch
This pocket watch was manufactured in early 2000's commemorating the KBG (Russian National Security Agency) and made in the now closed former Tscheljabinsky factory.

This watch is named "KGB", it has a spring lid which can be opened by pushing the button on the crown, the white dial has clear black numbers which are easy to read. Molnija caliber 3602 with manual winding, lever escapement, 15 jewels, 18.000 halfrotations/hour, approx. 39 hours power reserve, small second at position "9".

- Spring lid watch (The lid is opened by pressing the crown)
- Thickness 12,3 mm, Diameter 50 mm
- KGB logo on the lid; back cover with inscription "For Services"
- Molnija movement 3602, sweep-type second hand, manual winding
- Accuracy - 20 to + 40 s/day
- Min. 39 hours work capacity after full winding



Russian Chronograph History
If you are like the average connoisseur of Swiss timepieces, you may not know that much about Russian watches. So here's your chance to find out.

Russian watches can very well be viewed as the not-so-distant cousins of traditional Swiss and American timepieces.

Before 1930, when the First Moscow Watch Factory was founded, Imperial Russia was home to only small watch workshops, usually kept by Swiss watchmakers following Catherine II's call for quality watch- and clockmakers. Some of the more famous of the Swiss nationals to make their fame and fortune there were Paul Buhré and Heinrich Moser. Naturally they used Swiss parts in their creations, and even sold entirely Swiss-made timepieces, which they imported from their Jura-based factories. After the October Revolution of 1917, the whole of this little industry was absorbed into a precision mechanics combine and ceased to exist as individual business entities.

Watch parts and components were, however, in sore demand, as the Soviet Union realized that it still needed portable timekeepers. The country's council for labor and defense passed a resolution regarding watch production in 1927, and a committee was sent to Western Europe to purchase machinery. Fearful of losing a large export market, the Swiss weren't of much help, so the delegation moved farther west, to the United States. There they were able to purchase Dueber Hampton Watch & Co. and Ansonia Clock Company, both of which were dismantled and rebuilt in Russia. In May 1930, it is reported that thirty American watchmakers and fifty wagons full of equipment reached Moscow, where the First Moscow Watch Factory was put into action and the Russian watch industry founded. The first Russian caliber, Type 1, was actually a rebuilt Dueber. Modified and varied, it continued to be produced for years: Between 1935 and 1941 alone, the First Moscow Watch Factory manufactured about 2.7 million pocket and wristwatches using this caliber.

In 1949, Sturmanskie navigational watches came into production. Designed especially for military pilots, one even accompanied Yuri Gagarin on his historic space flight of April 12, 1961. In 1975, Swiss-made production machines finally made it to the Soviet Union, and Swiss-style calibers were introduced in the factory. The design of chronograph Caliber 3133, first issued in 1983, is based on the Swiss Valjoux Caliber 7734, with a diameter of 31 mm, a height of 7.35 mm, 23 jewels, and 42 hours of power reserve. This is Russia's premier movement and the particular one that makes the watches manufactured today by Volmax Watch Company competitive in the world market.

By the 1990s, the First Moscow Watch Factory, known as Poljot since 1961, was exporting 80 percent of its watches to seventy different countries, including the U.S.A., Western Europe, Asia, and, of course, Germany, where they have always been immensely popular. In the wake of the collapse of the Soviet Union, Volmax Watch Company was born, taking its name from a brand the First Moscow Watch Factory created in the '60s. The United States has recently gained a distribution specialist for Russian timepieces, Revolutions in Time. On this page you will find a sampling of the fine, very affordable mechanical watches this company is now bringing to the States. Vostok timepieces range from $180 to $350, while Aviator, Buran, and Sturmanskie start at $150 and can range to a couple of thousand for solid gold models, though average prices run between $300 for simple timekeepers and $1,200 for chronographs.




My Russian watch collection so far
Here are the watches side by side. All watches are manual hand wind and not automatic or quartz battery driven. Each wach has a power reserve of approx 42 hours although the Sturmanskie I frequently find is less at around 39 hours.